Background: Insurance companies are now able to invest in China's real estate market. But analysts say that since the capital amount is limited, so is its impact on the market. Full story >>
Watch Video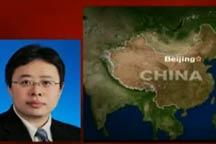 Play Video
Joining us on the phone is Shao Yu, Chief Strategist at China's Hongyuan Securities. He'll tell us how the new rules are broadening insureres' investment channels.
Q1 Some experts are describing the rules as more than expected. Could you tell us the significance of the news rules both to insurers and the overall financial markets?
Q2 Though allowing insurers to invest in properties, the rules forbid them to invest in residential housing and directly participate in real estate development. It may sound a little bit confusing. Could you explain for us what they can do and the aim of the requirements?
Editor:Xiong Qu |Source: CNTV.CN