Watch Video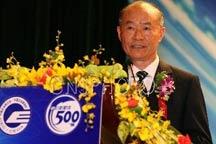 Play Video
The profits of China's top 500 companies increased by nearly 25 percent compared with that in 2009. That's according to a ranking report released by China Enterprise Confederation and China Enterprise Directors Association. The profits are also more than 9 percent higher than that in 2008.
The lowest income of the last ranking company on the list is more than 11 billion yuan. That's 540 million yuan higher than last year. Sinopac, National Grid and PetroChina are the top three on the list. Data shows that profitability has been rebounding.
Li Jianming, Deputy Director-General of China Enterprise Confederation said "Chinese enterprises are developing the domestic market. Auto and home appliances are going to the countryside. So, there are more of those companies on the list."
Though overall profitability has improved, the make-up has changed. Some firms previously on the list have dropped off, while companies from new industries have entered the running.
Chang Dechuan, Chairman of Qingdao Port Group said "I think more port companies and ship companies will enter the list."
Analysts say technology innovation is crucial for companies.
He Zhenlin, Vice President of Sany Group said "The most important factor for a company is technology innovation. Companies can improve its brand reputation, customer loyalty and profitability."
But some of the listed companies are facing quite a different picture - that is deficit.
Related stories
Editor:Xiong Qu |Source: CNTV.CN