Watch Video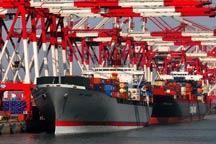 Play Video
China plans to boost imports, to balance its foreign trade. The Ministry of Commerce has firmly stated that it's for the benefit of China, but it will inevitably also help the global economic recovery.
China will loosen its regulation of imports, cut import costs and make import financing easier for domestic companies.
That's according to the Ministry of Commerce's deputy international trade representative.
Chong Quan told a forum in Beijing that China's intention to boost imports originated from its own development requirements, rather than prompted by outward pressures.
Chong Quan, Deputy Int'l Trade Rep. of Ministry of Commerce said "What I want to emphasize is that China remains not only the world biggest exporter, but also the world's second largest importer. The announcement to expand China's imports is a decision made in accordance with China's own needs, instead of prompted by outer pressures. China has announced that starting from July 1st, it will adopt a zero tariff policy to the least developed countries in three years."
The Ministry of Commerce announced last month that the government was planning to adopt measures during the rest of the year, to boost demand for imports and balance foreign trade.
China's trade surplus widened in July to an 18-month high of 28.7 billion US dollars, as imports weakened. That helped to fuel complaints by some American lawmakers who want Beijing to allow the yuan to rise or face possible trade sanctions.
Fan Gang, director of the National Economic Research Institute of the China Reform Foundation, refuted the complaints and explained why domestic trade balances are more important.
Fan Gang, NERI Director of China Reform Foundation said "China appreciated the Renminbi between 2005 and 2008 by 22 percent, but the US trade deficit against China increased rather than decreased. So the foreign exchange rate issue is important. But there may be other things which are more important, such as the domestic balance and the balance of the trade."
Editor:Xiong Qu |Source: CNTV.CN