Watch Video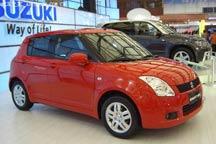 Play Video
Japan's second-largest minicar maker, Suzuki Motor Corp, will build a new factory in India. Car sales there jumped more than 30 percent this year, and Suzuki wants to keep up with the burgeoning demand.
Japan's Suzuki Motor will build a fourth Indian plant, boosting its output to 1.5 million cars annually in one of the world's fastest growing markets.
The company already controls around half of the Indian car market though majority-owned Maruti Suzuki and plans to start the new plant's operations from 2013.
The factory would boost its capacity by 250,000 cars annually, while Maruti Suzuki is currently building its third plant in the country.
Suzuki began production in India in 1983 and sees output in the nation alone exceeding half of its global production forecast of 2.68 million this year.
The automaker saw Indian sales jump 24 percent in August, its best ever month, after selling over 333,000 cars in the last quarter in a similar rise.
Earlier, Chief Executive Osamu Suzuki said the automaker was at its limits in dealing with the strong yen, which pares about $8.3 million for every one-yen advance against the greenback.
Suzuki said the automaker lost over $5 billion in revenues from the strong yen, urging the Japanese government to safeguard the nation's economy.
Editor:Xiong Qu |Source: CNTV.CN