Watch Video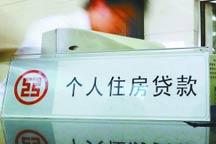 Play Video
In mid-April, the central government and banking regulator ordered China's commercial banks to stop granting loans for purchases of third homes and tightened credit for second homes. There were no specific requirements on first homes. But recently, banks in Beijing have moved on their own accord to tighten loans on first homes.
Housing agencies in Beijing say interest discounts on first home mortgages have been reduced to about 15 percent from the previous 30 percent.
Wu Hao, 5A Home Loan Services said "As far as we know... out of the 20 banks cooperating with us, 25 percent is the highest interest discount on purchases of first homes."
Commercial banks in the capital also confirm 30 percent interest discounts are no longer available.
One customer service of Bank of China said "A 15 percent discount is not guaranteed. We are following the current benchmark by the central bank."
One customer service of Pudong Development Bank said "No 30 percent discount, 25 percent is the best we can offer."
It appears that a 30 percent interest discount for first home buyers is only available at China Construction Bank and Bank of Communications. But even their censorship is very strict.
Editor:Xiong Qu |Source: CNTV.CN