Watch Video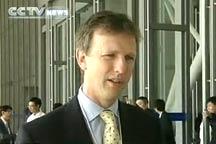 Play Video
A hot topic on day one at Summer Davos, was China's investment environment. And the feedback from multi-nationals has been largely positive.
According to a global competitiveness report by the World Economic Forum, China's ranking has risen from 29 to 27.
Participants at the fourth Summer Davos, or New Champions 2010, say China's investment environment is good.
John Manners-Bell, Davos Participant said "At the moment what's been put in place in China really will attract foreign investments into the country. It's certainly very stable environment and it's got the right particles and right prices to encourage for investment."
Ivan Pictet, Davos Participant said "Therefore investments... there is no doubt invest in China I would certainly be one of the bankers sort of proposing to my clients to invest in it now."
Heads of multi-nationals like Duke Energy and Metro Group, say they look positively at China's market. They also expressed their desire to strengthen investment and cooperation in the country, at the forum.
Metro Group will unveil the world's second largest electronic goods market in Shanghai, this November.
Related stories
Editor:Xiong Qu |Source: CNTV.CN