Watch Video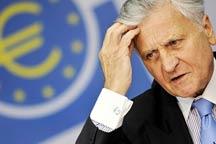 Play Video
European Central Bank Chairman Jean-Claude Trichet says the leading central bankers, who worked on Basel III, are convinced the new measures are a fundamental strengthening of global capital standards. And he says they're set to make a substantial contribution to economic stability and growth.
The Chairman also expressed full confidence the measures will be implemented by U.S. authorities, despite their not having fully adopted the last round of Basel rules. But he declined to estimate how much money banks would need to raise, to meet the new requirements. The Basel III agreement is seen as a cornerstone of the global financial reforms.
Jean-Claude Trichet, Chairman of European Central Bank said "Well, I have to say that again, what has been decided is what is necessary for all banks at a global level, we are in a global economy which is the pertinent entity, economically and financially, and we have to get a level playing field at a global level. I am confident that all the banks all over the world in the advanced economy as well as in the emerging economy because it is also something which has to be underlined, the ownership of these new standards is shared by the advanced economy as well as the emerging economy, the emerging economy as well as the advanced. The change of global governance that has been decided over the last years, is there in action and it is, I have to say, very, very appropriate in the present."
Editor:Xiong Qu |Source: CNTV.CN