Watch Video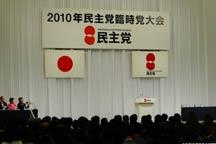 Play Video
It's a neck-and-neck race between Japan's top power broker Ichiro Ozawa and current Prime Minister Naoto Kan, with Tuesday's Democratic party election deciding the nation's next premier. Both candidates have rolled out their prescriptions for the country's economy.
Ichiro Ozawa says Japan should intervene to weaken the yen and issue more bonds to boost the economy, while Kan has tried to reign in the country's 10 trillion US dollar public debt and stayed out its markets.
A Reuters analysts' poll showed a win by Ichiro Ozawa could give a short-term boost to Japanese stocks while weakening bonds and the yen, although over half expect Kan to win due to his popular support.
Japan strategist Naomi Fink says the party rank and file vote would be seen as flawed, if it does not reflect the overall political will of the country.
Naomi Fink, Japan Strategist of Bank of Tokyo-Mitsubishi UFJ said "We have a situation where the populous supports Prime Minister Kan, so an Ozawa leadership might be seen as a perversion of democracy."
For some members of Japan Inc, currency levels are manageable if the yen doesn't strengthen further, says Hitachi President Hiroaki Nakanishi.
Hiroaki Nakanishi, President of Hitachi Corp. said "Honestly speaking, we can manage 85 yen dollar or 105 yen per euro -- that range we can manage."
Both men say the government will not implode regardless of who wins, but Ozawa's history of bolting parties when things don't go his way has raised concerns that the vote may only herald greater political gridlock ahead.
Related stories
Editor:Xiong Qu |Source: CNTV.CN