Watch Video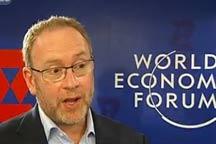 Play Video
This year's Summer Davos coincides with the two-year anniversary of the global financial crisis. Participants at the forum are discussing the impact of the crisis on major industries.
At the Summer Davos forum, participants from all backgrounds share their opinions, on the lasting impact of the financial crisis. They believe it's time to get the world back to sustainable growth, and try to avoid similar mistakes in the future.
David Schlesinger, Editor-in-Chief of Thomson Reuters said "This is the real issue for governments all around the world, that is how to keep away from having another crisis...how to keep sustainable growth..."
Some experts say despite the negative impact, the financial crisis has actually created new opportunities for some industries. This is particularly true for companies in emerging economies like China.
Fang Xinghai, Director General of Shanghai Financial Service Office said "Many international companies believe the Chinese market is playing a much more important role in their business. They all hope to further expand in China. And Chinese companies are also improving in technology development and cost-saving measures. So international businesses are facing increasing challenges from domestic companies. They have to make more of an effort in the Chinese market. "
Gao Wei, President of Dalian Software Park Co., Ltd. said "Many firms have undergone reform during the crisis. They're outsourcing some non-essential business but keeping their key business. So outsourcing service companies have gained great opportunities to expand, during the past two years. "
Participants are optimistic about emerging economies like Brazil, Russia, India and China. Some are concerned developed countries still face big challenges ahead.
Ian Goldin, Former Vice President of World Bank said "I'm optimistic about the BRIC, which will continue to grow at annual 5 percent... but rich countries have big problems. Europe has very big macro eco problems, and problems in US and Japan. so world eco will full down growth... so we have shocks in the future before we figure out ways to tackle the problems."
But prospects are not all doom and gloom. Some attendees say they believe the world economy will be back to growth this year, with previous forecasts the growth rate could reach 3.5 percent.
Editor:Xiong Qu |Source: CNTV.CN