Watch Video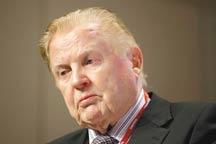 Play Video
Tensions with the US over the strength of China's currency, are increasing by the week. But amid the disputes, economist and Nobel prize winner Robert Mundell told CCTV, that appreciating the yuan won't solve the Sino-US trade imbalance.
On the sidelines of a forum held in Xi'an, Shaanxi Province, Robert Mundell said the fluctuation of the yuan neither benefits China's stable economic development, nor speed up the US economic recovery.
Robert Mundell, Noble Laureate said "The exchange rate policy of China's yuan policy should be maintained similar as the one in 2005 and 2008... The trade surplus between China and the US can not be fully solved by the appreciation of yuan. The yuan stability will also conducive to the US economic recovery..."
Mundell also believes large appreciation of the yuan will raise the living costs for Americans, since the US has become one of the major consumers of Chinese goods.
He said US restrictions on importing Chinese products won't necessarily mean extra profits for its domestic manufacturers.
If and when the US Congress passes a bill to adopt trade sanctions against Chinese products, it will not only impact the US economy but also hinder the global economic recovery.
Robert Mundell said "Once the trade battle is ignited, negative impact will be imposed on both of the two countries...The more China has developed, the greater the influence there would be to the world economy...."
And the trade surplus is scaling back.
Statistics show that the US exports to China surged 36.2 percent in the first seven months of the year. It grew 15 percent faster than its import from China.
More supporting voice:
Official: China need stability in currency
China's Ministry of Commerce says the country needs basic stability in its currency to counter slowed export growth, and expectations of the yuan's appreciation. Wang Zixian, deputy director with the policy research office, also said a slowing of the export growth rate in the coming months is a given. Full story >>
Special report about Sino-US currency dispute >>
Editor:Xiong Qu |Source: CNTV.CN