Watch Video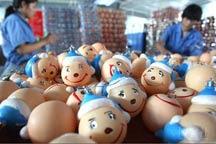 Play Video
The yuan's appreciation spells bad news for export-oriented companies, like those in East China's Zhejiang Province. Now banks in Yiwu have stepped in, to help those businesses adapt.
The Industrial and Commercial Bank of China's Yiwu branch sent a team to local garment producer, Berkam. They're getting knowledge of the company's current operations and offering advice.
Cheng Wei, Staff of Yiwu Branch, ICBC said "The yuan's exchange rate has hit a new high. This troubles export businesses with great risks. Some of our services, such as trade financing, and invoice financing, can help them avoid risks. Those services enable early exchange settlement."
Berkam is one of the largest businesses in Yiwu. Around 90 percent of its products are exported to overseas markets. The company's deputy sales manager says the volatile exchange rate has a big impact on a low-profitable clothing industry. But Berkam has been long aware of the risks and is working with banks.
Guo Honghai, Deputy Manager of Zhejiang Berkam Garments Co. said "We export most of our products. We are taking the invoice financing which enables early exchange settlement. For example, this British order includes 140 thousand items of clothing. With adopted measures, 100 thousand yuan can be saved."
Berkam's sales in 2010 have so far amounted to 300 million yuan, in which profits account for between 24 and 25 million.
If not for the early exchange settlement, a fifth of the company's profits might be cut. The manager says the early settlement helps his company receive payment in advance and avoid risks brought about by the changing exchange rate.
Editor:Xiong Qu |Source: CNTV.CN