Watch Video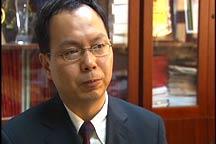 Play Video
The poor performance of ChiNext companies has caused a lot of concern. Analysts say the establishment of an effective delist mechanism, could promote the healthy development of the board.
Statistics show that between 2003 and 2007, more companies were delisted from the NASDAQ for poor performance, than the number with initial public offerings. The delist rate on similar boards in other countries, like the JASDAQ in Japan, AIM in the UK and KOSDAQ in South Korea, is also very high. Analysts say it encourages listed companies to improve their performance.
Huang Xiangbin, Chief Strategic Analyst of Cinda Securities said "I suggest the stock market supervisors to perfect the delist mechanism in the ChiNext board, to ensure a smooth delist of companies. That can help the ChiNext to better distribute resources, and be fit for survival."
Editor:Xiong Qu |Source: CNTV.CN