Watch Video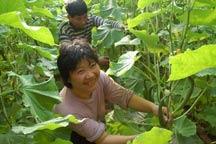 Play Video
The economic zone looks to benefit the local economy, and the area's residents. But experts and officials say industrial development shouldn't occur at the cost of agriculture. China's central plain area is the most important grain producer for the country.
The grain output of the economic zone accounts for one seventh of the country's total. Henan Province is the largest grain-producing province in China. It's also abundant in other agricultural products.
In 2009, Henan topped other provinces in oil-bearing crop output, and ranks third in meat production. The region's agricultural output is crucial to the country's grain security. Experts warn the industrial development of the central plains mustn't sacrifice its agricultural production.
Zheng Xinli, Executive Deputy Director-General of China Center for Int'l Economics Exchanges said "The central plains economic zone should become a sample model of coordinated development of industry and agriculture."
Wang Yiming, Executive Dean of Academy of Macroeconomic Research, NDRC said "I think we should develop agriculture in an industrialized way. Agricultural development must be improved, not constrained."
Experts suggest land should be used more effectively, and plantations must be protected. Henan Province is trying to implement these recommendations.
Fan Gang, Director of National Economic Research Institute said "The key problem is how to use the land. Land resources are limited, so we must find more effective ways to use it."
Zhang Weining, Director of Henan Provincial Development & Reform Commission said "We are planning to set up industrial parks to concentrate plants and facilities. In doing so, we can raise the utility rate of land."
Henan Province is also planning to transfer its rural population to urban areas, and build new residential communities for rural residents.
Related stories
Editor:Xiong Qu |Source: CNTV.CN