Watch Video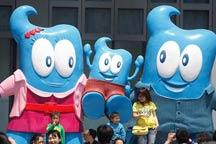 Play Video
This year's World Expo has attracted nearly 60 million visitors to the city of Shanghai, giving them a taste of different cultures from around the world. It's also been a key driver of the local economy.
It's hustle and bustle in World Expo Park, as visitors flood to purchase from the huge variety of Expo merchandise on offer. Since the event opened, retail sales of franchised products have exceeded one billion yuan, accounting for 80 percent of total retail sales in the park.
Manager of World Expo Store said "Our daily retail sales are around 210 thousand yuan. We receive 20 or 30 thousand visitors every day."
Nearly 400 thousand visitors flock to World Expo park everyday. 70 percent of them are from outside of Shanghai. And the local tourism industry is also getting a boost from the extra visitor flow.
One visitor said "I want to visit the Oriental Pearl Tower and the Bund."
And Shanghai's retail sector is also reaping the rewards, with department stores seeing the effect of World Expo fever.
Li Guoding, General Manager of Business Company, Shanghai said "Our retail sales in our 27 stores have increased by 22 percent year-on-year, from April to September. The profits are expected to exceed 3 billion yuan."
Boosted by World Expo, Shanghai's total retail sales in the first eight months of this year, approached 400 billion yuan, reaching an all-time high.
Editor:Xiong Qu |Source: CNTV.CN