Watch Video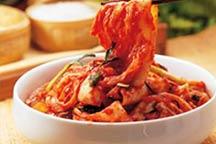 Play Video
South Korea faces a "kimchi crisis." The national dish is one that many South Koreans say they cannot live without. And since the price of cabbage, the main ingredient, began to soar, the government has came up with various ways to deal with the problem.
Kimchi is to Koreans what ketchup is to Americans. In a country where 2 million tons of cabbage is consumed each year, the price hike has disrupted the nation's eating habits. But now, cabbage has become the lobster of vegetables. One head costs over 10 thousand won, or about 55 yuan. It's a price that even the president of South Korea can hardly afford, let alone average residents.
One resident of S. Korea said "Last year, one cabbage cost only 3,000 won. Even during the mid-autumn festival, the prices rose to just 4,900 won. It was much bigger, too."
Many people in South Korea are now calling the dish keum-chi instead of kimchi... keum, being Korean for gold.
Resident of S. Korea said "I can not believe this head of cabbage would cost this much. Even if I had the money, I would rather eat gold."
To address the kimchi crisis, the South Korean government has announced a temporary reduction in tariffs on Chinese-imported cabbage. Official statistics show South Korea's import of cabbages from China this week surpassed 200 tons. Other countries may be busy launching bank bailouts, but South Korea has launched a kimchi bailout. The government there has purchased 300 thousand heads of cabbage from rural farmers, and is selling them to the public at a subsidized price. Some experts say that the price of cabbages will hopefully decrease by December, just in time for Koreans to enjoy their favorite dish for the holidays.
Editor:Xiong Qu |Source: CNTV.CN