Watch Video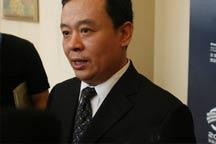 Play Video
China's auto sector is expanding rapidly and the question now is whether the speed of that growth should be reduced. We talked with Wang Xia, Chairman of the auto branch of the China Council for the Promotion of International Trade, to hear his views.
Wang Xia, Chairman of the auto branch of the China Council for the Promotion of International Trade, says car sales should be dictated by the market. He says many people in China now live affluent lives and want to purchase cars to further improve their livelihoods.
Wang Xia, Chairman of China Council for Int'l Trade, Auto Branch said "For each 1,000 people in Europe, there are 600 cars purchased. In the U.S., it's 700 units for the same amount of people. But in China, for each 1,000 people, there are only 50 cars, lower than the global average. Therefore, the number of cars in China is quite low and the number is lower than the average unit of the world. From this standpoint, the rapid development of Chinese auto market is reasonable."
Some experts argue that the growth of car sales should be 1 and a half times GDP growth. So a reasonable rate would be between 12 and 13.5 percent for China. Instead, it's at almost 40 percent. While some view this as abnormal growth, Wang says that China has a special status quo and it is unwise judge by international standards.
Wang Xia said "Abroad, new car sales are mostly contributed by those who already own a car and want to change to a new one. But in China more than 60 percent of purchasers are first time buyers. Thus the consumption characteristics of China are very different to that of other countries."
Wang also says auto growth will remain at a high level during certain periods of time, but that the market will not increase infinitely. After it reaches a certain saturation, the market will enter a phase of low growth. he says the Chinese auto market will mature after sales reach 25 million units.
To deal with negative effects the expanding auto sector, Wang says regulation and efficient city management should be employed. For example, smaller cars are not only trendy, but they cut the energy consumption and are easier to park.
Editor:Xiong Qu |Source: CNTV.CN