Watch Video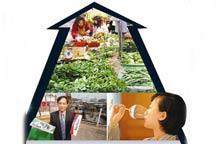 Play Video
All eyes will be on the consumer price index, a major gauge of inflation, as asset prices around the country continue to soar. Many say it's unlikely the government's annual CPI target of 3 percent or less, can be achieved.
Many analysts believe, due to the rising food prices, September's CPI will grow by at least 3 and a half percent. An earlier report from the Chinese Academy of Social Sciences said CPI growth for the first three quarters will be around 3 percent, while the figure for September will be far more than that.
Jing Linbo, Deputy Director of Institute of Finance & Trade Economics, CASS said "We predicted September's CPI growth will be around 3.6 percent. We've all seen the food prices are rising dramatically, which will push up CPI growth."
In addition to food, prices of other bulk commodities like cotton and grain have also seen significant gains.
Li Zhe, Director of Galaxy Futures Research Center said "As of September, prices of bulk commodities including wheat, corn and cotton all increased. Take cotton for example, the futures price went up more than 20 percent last month."
Continuously rising prices this year have raised concerns about inflation control. The 3 percent annual CPI growth target is now facing some serious hurdles.
August's CPI increased 3 and a half percent year on year, 0.2 of a percentage point more than in July.
Experts say rising commodity prices may further push up the index in September, but for the third quarter, the figure will remain at around 3 and a half percent.
Analysts also say September's CPI may hit a record high in this year, as most consumption occurred during the month. The price hike may slow down in the fourth quarter.
Jing Linbo said "Challenges still exist, such as the inflow of hot money and the appreciation expectation of the Reminbi. But positive signals can also be seen domestically, because the central government has reiterated to guarantee people's livelihoods and raise incomes."
Analysts point out other factors, such as a good grain harvest and slowdown of credit growth will also drag down commodity prices in the future.
Editor:Xiong Qu |Source: CNTV.CN