Background: Higher food prices pushed the consumer price index (CPI), China's main gauge of inflation, to a 23-month high of 3.6 percent in September, but officials said China could still achieve the 3-percent full-year inflation target. Full story >>
Watch Video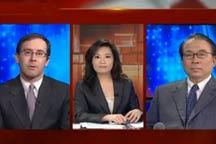 Play Video
Q1. Another key figure under spotlight is the Consumer Price Index or CPI, which posted at 3.6 percent. Professor Huo, how do you see the CPI figure, given Chinese banks just raised interest rates a couple of days ago. Will these measures help soften the rising inflationary pressure?
Q2. Professor Chovanec, do you agree with Professor Huo?
Q3. Continuously rising prices this year have spiked concerns about inflation control. The 3 percent annual CPI growth target is now facing some serious hurdles. Professor Huo, do you think the country will manage to achieve that target?
Q4. And what's your opinion Professor Chovanec?
Q5. Professors, are there any other key figures that have caught your attention? Professor Huo.. Professor Chovanec...
Editor:Xiong Qu |Source: CNTV.CN