Watch Video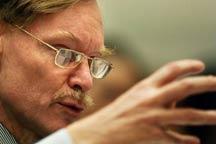 Play Video
World bank President Robert Zoellick has clarified previous reports, which suggested he was advocating a return to a gold standard for exchange rates. Let's hear what he had to say.
World Bank President Robert Zoellick says countries should look beyond exchange rates and focus on economic fundamentals.
Zoellick points out that confidence is low, and that's why gold has become a monetary asset that policymakers cannot ignore.
Robert Zoellick, World Bank President said "There's an elephant in the room, that I want to get people to at least recognise is there."
But the World Bank chief says he is not advocating a return to the gold standard, but pointing out the metal's link to global growth.
Robert Zoellick said "Sometimes the debate seems to take place in separate boxes, people talk about growth strategies, and then they discuss exchange rates and monetary systems. I'm trying to interconnect them. I believe, whether people acknowledge or recognize it, that we're moving to a Bretton Woods 3."
Zoellick says Bretton Woods 3 will include the dollar, yen, euro, sterling and eventually the reminbi, once the Chinese currency internationalises.
He adds gold's record run shows it's already being used as an alternative monetary asset within this evolving monetary asset.
The world bank chief adds agreement on economic fundamentals could also help ease ongoing currency tensions.
Editor:Xiong Qu |Source: CNTV.CN