Watch Video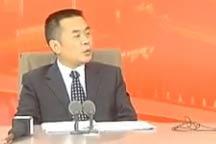 Play Video
China's top economic planner says the country has the means to control inflation, although price levels will remain high for the rest of the year.
Speaking in an interview, Zhou Wangjun, an official with the National Development and Reform Commission, gave his forecast for China's annual CPI growth rate.
Zhou Wangjun, Official of NDRC said "We expect the whole year's CPI growth rate will be a little more than 3 percent. But this forecast is still within our expected goal set early this year."
Zhou also says consumer inflation will likely rise in October and November, before slowing in December.
Zhou attributes the current rapid growth of consumer prices to excess liquidity on the global market, rather than supply shortage, which had been the major cause in previous years.
Zhou also notes some uncertain factors, including natural disasters leading to growing consumer prices.
According to Zhou, China's urbanization and industrialization have shifted labor, capital and land resources from rural areas. That's resulted in raising costs of agricultural production in these areas.
He also blames hot money speculation for pushing up some agricultural product prices. He says measures should be taken to control such activities.
Editor:Xiong Qu |Source: CNTV.CN