Watch Video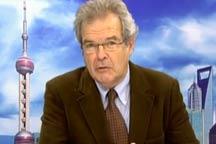 Play Video
For more insight into the summit, let's cross to Professor Pastor Alfredo. He's from the China-Europe International Business School in Shanghai. Hello Professor.
Q1. Tensions were high during yesterday's G20 discussions. Now with only a few hours to go, do you expect an agreement can still be achieved, and the outbreak of currency wars can be avoided?
Q2. The US QE2 will come into effect today. Both Obama and Geithner have been defending it yesterday. Is the US being hypocritical by coming down hard on China over its currency, while adjusting its own currency with plans to print more dollars?
Editor:Xiong Qu |Source: CNTV.CN