Watch Video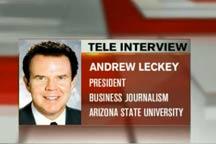 Play Video
For more analysis on the Nov 2nd and Nov 3rd minutes of the Fed's meeting, we're joined by Professor Andrew Leckey from Arizona State University.
1. The recent minutes show the Federal Reserve has lowered its forecast for economic growth for 2011, and predicts the unemployment rate will remain high in the next 2 years. So what actions can be expected from the Fed?
2. What kind of impact do you think lowering the growth forecast will have?
3. The minutes also show there are different opinions on the second round of quantitative easing, from inside the Fed. Some analysts say internal disagreements may hinder the Fed from fully carrying out this QE2. So Professor, what's your opinion?
Related stories
Editor:Xiong Qu |Source: CNTV.CN