Watch Video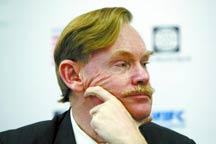 Play Video
Between tensions on the Korean peninsula and debt problems in Europe, there is a lot of uncertainty in the global economy at the moment. But looking ahead, World Bank President Robert Zoellick says he foresees the "uncertainties" to continue in the coming year.
Zoellick stresses that the European Union must come up with a process to address severe problems within the Eurozone, such as the current crisis in Ireland and past and potential developments in Greece, Spain and Portugal. The EU must do so to prevent the currency from falling.
Robert Zoellick, President of the World Bank said "I think the markets already know some of the weaker players, and again, I believe that in the short term, the European Union will stand by those players. I think the longer term issues are some ones that have been raised by the Germans and others, which is in the future, how are you going to deal with some of the creditors? Are they also going to be built in to the process?"
Zoellick says world economies should brace themselves for another year of slow recovery and the fallout that comes with it.
Robert Zoellick said "I think in general what it suggests is that growth in Europe and the United States is likely to remain rather modest in this recovery. That means you are going to have unemployment and that means you are going to have tensions on potential protectionism and the social side," he said.
Zoellick also noted the rush to buy gold as an alternative to international currencies as the uncertainty persists.
Related stories
Editor:Xiong Qu |Source: CNTV.CN