Watch Video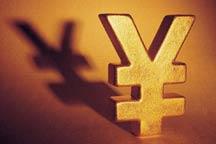 Play Video
China has added the Russian rouble to the growing list of currencies that can be traded against the Yuan, as part of efforts to promote it as an international settlement currency.
The yuan has started trading against the Russian rouble, in China's inter-bank foreign exchange market.
The step comes as part of China's efforts to internationalize its currency. The rouble is the seventh currency to trade in the China Foreign Exchange Trade System, a unit of the central bank.
The organization says the yuan will be permitted to rise or fall 5 percent against the rouble each day, from the mid-point set by the People's Bank of China.
Russia is one of China's major economic partners, with trade during the first 10 months of this year expanding by 43 percent, from a year earlier.
The two countries are also increasing bilateral investment.
Experts say the direct currency trade will free businesses on both sides from the burden of exchanging their currencies into U.S. dollars.
One analyst said "The move helps cut foreign currency exchange costs and risks. "
The rouble joins the growing list of currencies tradable against the yuan in China's inter-bank foreign exchange market, including the Malaysian Ringgit, the U.S. dollar, the Hong Kong dollar, the Japanese yen, the euro and the pound sterling.
Editor:Xiong Qu |Source: CNTV.CN