Watch Video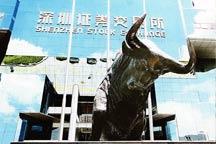 Play Video
Last week, the Shanghai stock exchange celebrated 20 years of growth and today, it's Shenzhen's turn. While Shanghai's development over the last two decades has attracted much attention, the southern sister is often overlooked. But I traveled down to the Shenzhen exchange a few weeks ago and I found it could soon be taking its turn in the spotlight.
Shanghai. Glamorous, cosmopolitan , economic powerhouse.
But what about its less-glamorous, rural sister down south? 30 years ago, Shenzhen was all fishing and farmland. Now, it's catching up.
And there's no better example than its booming stock market. For the first time ever, Shenzhen is attracting more money in initial public offerings than Shanghai.
As of October, the southern sister had raised a record 33.6 billion US dollars in listings this year that's triple last year's total and nearly 10 billion dollars more than the amount raised in Shanghai.
One investment banker of Shenzhen said "I was surprised by the number..."
And while Shanghai has seen less than 20 companies debut on its exchange this year, Shenzhen has seen a whopping 246 listings.
Most banks have chased the big listings of SOEs in Shanghai. But as the IPO bonanza here is proving, there may be more gold in growth. And it represents an important step in the evolution of China's financial markets.
It's a big step towards innovation and entrepreneurship. Last year, Shenzhen launched ChiNext, an index soley for private, start-up companies to raise money. It's increasingly becoming known as the NASDAQ of China. The Shenzhen exchange has given promising private companies such as Suning Appliance and property giant Vanke their starts.
We sat down with Peter Fuhrman, Chairman and CEO of China First Capital, a boutique investment bank in Shenzhen. He says the evolving business environments of Shanghai and Shenzhen aren't so different from how America's financial centers developed.
While Fuhrman sees little risk in his business now, there are many that remain skeptical. Some say Shenzhen's ChiNext index is just an excessive speculative frenzy. And with company valuations 66 times earnings, or about three times the average for Chinese stocks. It's not difficult to see why many analysts say those forecasts cannot be sustained.
But given the increasing role of private companies in China's booming economy, it doesn't look like the Shenzhen gold rush is set to end anytime soon.
Editor:Xiong Qu |Source: CNTV.CN