Watch Video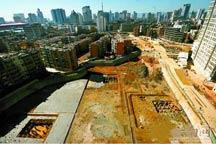 Play Video
The cold winter weather has come early for the housing market in China. Developers have turned bearish.
Two parcels of residential land in Shanghai that received high bids at the beginning of this year, have been returned to the local government.
Sentiment is dampening among property developers. Two parcels of land in Shanghai were bought at prices more than four times their asking prices. But now the developers have decided to give them back to the government instead. It will cost them millions of yuan in deposits.
Industry insiders say it's due to the cooling housing market, thanks to the government's curbing measures. Since property prices aren't expected to rise any further, developers are expecting to lose money if they go ahead with construction.
Fu Qi, Analyst of China Real Estate Info. Corp. said "If they develop the land, they will lose money. There are only two ways out, either return the land or let it sit there."
But idle land still costs money. And the government's various measures have also made it more difficult for developers to get loans.
Fu Qi said "The government has tightened liquidity for developers. There are stricter standards to get bank loans and launch IPOs. As a result, the developers are returning the land."
This isn't the first time it happened in China. Many developers returned land to the government two years ago, after down-payments and interest rates were raised.
Editor:Xiong Qu |Source: CNTV.CN