Watch Video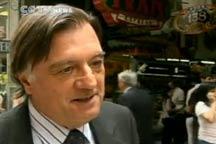 Play Video
Inflation isn't just soaring in China. On the other side of the world, Argentineans are having to change their buying habits to combat rising prices.
When prices are climbing at one of the world's fastest rates, Argentineans know the worst thing one can do is wait. Argentina's economy will grow nearly nine percent this year, thanks partly to a booming retail sector. The downside is annual inflation estimated to be between 25 percent and 30 percent.
Although wage hikes have helped to offset its impact, inflation is spawning changes in consumer spending. While poorer Argentines cut back or endure painfully long lines for discounts, the wealthier are seizing promotions to buy goods now.
Carlos Noel, Executive of Financial Holding Company said "The other day I bought an iPad for 52 installments at zero interest, last year I bought a flat-screen TV in 24 installments, and I've invested in repairs to my house."
Argentines with money to protect are seeking refuge in real estate, where their investments have helped fuel a construction boom. And many people are snapping up cars.
Silvio Ojeda, Fiat Salesman said "Inflation means that a consumer who isn't sure whether or not to buy, has to decide right away. Because in a month, another month, and another month it could surpass what he is able to take in as income. You have to make the decision as quickly as possible."
Prices on some typical foods have jumped nearly 46 percent in the year through November. But keep in mind today's inflation is a far cry from the hyperinflation that tore through wallets in the 1980s. And the economy has rebounded from the devastating 2001-2002 crisis that sparked widespread bartering during a severe cash crunch.
Editor:Xiong Qu |Source: CNTV.CN