Watch Video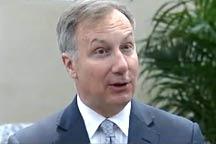 Play Video
As the Chinese delegation heads to the US, they are also seeking more opportunities to cooperate on Intellectual Property Right protections. China's efforts in improving IPR protection and anti-piracy have already won praise from its US counterparts.
China has ratcheted up its efforts in IP Rights protection in recent years.
In its latest efforts, the country launched a six-month campaign to beef up enforcement of IPR regulations in Karaoke bars, websites, online-gaming, Internet cafes, animation and artistic products.
Meanwhile, various levels of the Chinese government are setting an example and promoting public awareness by using copyright protected software.
The government also vows to reinforce an effective system of patent creation and regulation. It says it will play a vital role in making China's patent policies more international and transparent.
Robert Holleyman, CEO of the US based Business Software Alliance, is a member of President Obama's Advisory Committee for Trade Policy and Negotiations.
Robert Holleyman said "The level of attention focused on the IPR protection in China on copy right protection has grown and continues to grow substantially. The Chinese leaders very much understand the future of Chinese innovation. It's going to be directly linked to the intellectual property right protection. And we also welcome those experiences could be shared...."
Figures from Chinalab.com show that about 45 percent of software installed on computers in China last year was pirated. But the rate has been dropped over 21 percent in four years.
Now the country is trying to make use of experience from its counterparts to further boost its IPR protections.
Robert Holleyman said "I think the cooperation is essential...There is no difference between companies, whether there are multi-national or based in US or based in anywhere, and there is no different views among governments in the issue of intellectual right protections...."
By introducing foreign expertise, Chinese authorities have dealt with 242 thousand cases of infringement and counterfeiting of trademarks in the five years from 2006 to 2010. And in the last two months alone, a total of 38 thousand applications for trademark registration have been rejected for infringing on existing trademarks.
Editor:Xiong Qu |Source: CNTV.CN