Watch Video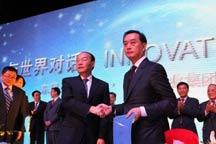 Play Video
Dongfeng-Yulon Motors, a joint venture between two automobile makers in the mainland and Taiwan, officially opened Tuesday in Hangzhou.
The new venture is between Yulon Motors, one of the leading car manufactures in Taiwan, and Dongfeng Motors, a state-owned car maker in the mainland. This is the first large economic cooperation between the mainland and Taiwan after the signing of the cross-Strait Economic Cooperation Framework Agreement.
The venture draws an investment of 3.4 billion yuan, with Dongfeng and Yulon each holding a 50 percent share. The new company will have a annual capacity of 240 thousand units, most of which will be luxury vehicles.