Watch Video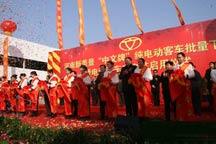 Play Video
China is making good on its commitment to new energy autos in 2011. Twenty entirely electric-powered buses have hit the road in Henan province.
After three hours of charging, the 100 percent electric-powered bus begins its maiden journey. The driver says the bus can accommodate almost 90 passengers, and travel for more than 360 kilometers on a full battery. The head of the company that designed the bus says the new energy model can save a lot of money.
Jia Bingcheng, President of Henan Xinmeijing Bus Manufacturing said "Traditional diesel-powered buses cost more than 700 yuan to travel 300 kilometers. But the electric-powered bus only costs 60 or 70 yuan for the same distance. That's one-tenth the cost of a traditional bus."
The company's chairman says they've sold 100 electric buses to neighboring Shangdong Province, and are set to sell another 200 after February this year. Other provinces like Hubei and Hebei have also embraced the new energy buses. And efforts have been made to encourage ordinary Chinese to become familiar with the new technology. During the 2008 Beijing Olympic Games and the 2010 Shanghai World Expo, visitors were able to view the electric powered buses.
Analysts say the fast development of electric powered buses is largely due to the government's supportive policies, and a fixed business model.
Chen Qingquan, Chairman of World Electric Vehicle Association said "We believe there are two steps for the development of the electric bus. The first step is the government's initiatives to improve safety. Then it can become a part of daily life."
Experts say the purely electric powered bus is an environmental-friendly transport option, as there are no emissions created by its use.
Editor:Xiong Qu |Source: CNTV.CN