Watch Video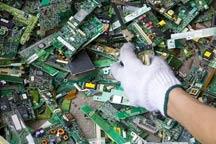 Play Video
China's electric waste is increasing every year. So this year the Ministry of Environmental Protection is implementing regulations, to enforce recycling and puts the onus on manufacturers. Offenders could face fines of up to 500 thousand yuan.
The ministry of Environmental Protection has introduced a set of supplementary guidelines for the implementation. They outline the qualifications needed for recycling companies, and government subsidies for e-waste recycling initiatives.
According to the regulation, recyclers which engage in e-waste business without certificates could face fines ranging from 50,000 yuan to 500,000 yuan.
Li Xinmin, Official of Ministry of Environmental Protection said "This is the first time China put the responsibility of producers into law. "
The regulations could be regarded as the country's latest effort to promote comprehensive utilization of resources and an environmentally friendly economy.
Qin Jian, Hisense Recycling Project said "After the regulation is implemented, we need to pay fees for each television, refrigerator and air conditioner that we produced. And that many will be used to recycle the electric waste. We have the obligation in leading the industry in environmental protection."
Each year nearly 30 million televisions, refrigerators, washing machines, air conditioners and computers are discarded in China.
Experts believe the new regulations will make "remarkable progress" in environmental protection by extending manufacturers responsibility into the post-use recycling of their products.
Editor:Xiong Qu |Source: CNTV.CN