Watch Video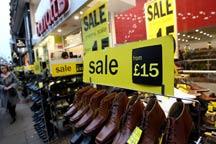 Play Video
In UK, shoppers are about to start paying a whole lot more. The value-added tax, or VAT, is set to rise today as part of the government's efforts to cut national debt. So before the change takes effect, many Brits are spending up big.
Under the budget released by the U.K. government last June, the VAT will be raised from the current 17.5 percent, to its highest level of 20 percent, effective January 4th. Analysts say the move could boost the government's annual income by 11 billion pounds, and help cut the nation's huge budget deficit.
But it's bad news for retailers and consumers. The tax hike means higher prices and extra household spending. So during the Christmas retail season just past, many Brits took the opportunity to buy big ticket items in preparation for 2011.
Analysts say British families could be forced to fork out an additional 7.5 pounds every week after the tax is lifted, or nearly 400 pounds a year. Critics say it's the country's poorest who will be hardest hit.
One consumer in HK said "I think it will hit people hard actually. because a lot people are in their budgets, extra 2.5 percent above their actually afford."
Besides voracious consumer spending , many retailers are offering promotions, hoping to sell more to cover losses caused by the tax hike. Business groups say the steeper VAT could cost the British retail industry 2.2 billion pounds in turnover, in the first quarter this year.
Editor:Xiong Qu |Source: CNTV.CN