Watch Video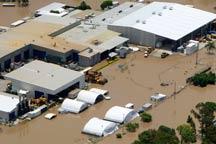 Play Video
Flood-stricken parts of Australia are expecting to be battered with more heavy rain. Local weather reports show rainfall will continue in the area, as the estimated economic loss caused by the flooding disaster is estimated to exceed 5 billion U.S. dollars.
The flood has brought some big problems for the Australian state of Queensland. State Premier Anna Bligh says besides damage to the local agriculture sector, the flood has destroyed fundamental infrastructure in coal-rich state. 75 percent of mines have been forced to cease production.
Anna Bligh, Premier of Queensland State said "This disaster is unlike any other that we've had to rebuild from and our normal disaster relief arrangements may not be enough."
The flood is also pushing up food prices, which is placing huge pressure on local residents daily lives.
Ben Fargher, National Farmers Federation said "When you get an entire region wiped out that supplies a certain fruit or vegetable, obviously you get a price spike."
To overcome the difficulties, the Queensland state government has appointed army veteran Commander Mick Slater to head up flood recovery operations. He says the clean up will cost billions.
Mick Slater, Major General said "We must get it right from the start that will take some time."
Unfortunately, the severe weather is showing no signs of letting up. Rainfall is expected again, slowing down the recovery effort and creating more woes for the flood-stricken communities.
Editor:Xiong Qu |Source: CNTV.CN