Watch Video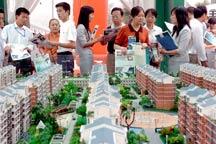 Play Video
There is hope, China's measures to contain the property market will start to take effect in the second half of this year. China's central bank announced another hike in the reserve requirement ratio for lenders on Friday, this time by 50 basis points.
The first reserved requirement ratio hike of 2011 came last Friday. That means Chinese banks will need to put aside as much as 19 percent of their cash reserves, totaling around 350 billion yuan.
Peng Peng, Researcher of Guangzhou Academy of Social Sciences said "The decision to raise the reserved requirement ratio was taken in the context of inflation. So the direct cause is the massive amount of loans in the market. We've seen around 700 billion yuan of new loans being issued in less than two weeks."
The People's Bank of China nudged up the reserved requirement ratio four times in three months, to clamp down on inflation.
Experts say, in the short term, the RRR hike will boost sales on the property market.
Liu Wenjiang, Chief Analyst of Hopefluent Group Holdings Ltd. said "Because many developers will have to get their money back from the market, they might come up with new measures to promote property sales."
Meanwhile, the government is also stepping up its efforts at expanding land supply and public housing construction in 2011.
But China's runaway property market isn't so easy to tackle.
In Guangzhou, capital of Guangdong Province in the country's south, the price of new homes reached a historical high of around 15000 yuan per square meter, soaring 4 percent year-on-year.
Editor:Xiong Qu |Source: CNTV.CN