Watch Video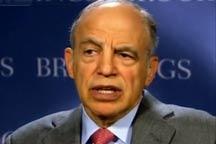 Play Video
Some U.S. analysts see Hu Jintao's trip as the most important state visit in 30 years. It's expected the leaders will try to put behind them a stormy 2010, and to establish an improved relationship for the coming years.
The two presidents have a lot on their agenda, including the state of the global economy, the valuation of Chinese currency, the trade imbalance, and clean energy technologies. Currency tensions have cooled somewhat. Republican party gains in the U.S. Congress suggest there may be less pressure coming from lawmakers to label China a currency manipulator, or impose stiff new tariffs. And, the U.S. dollar has actually strengthened against a basket of currencies since the Federal Reserve announced its bond-buying plan in early November.
Kenneth Lieberthal, Brookings Institution said "The U.S. congress tends to focus on currency, that is a serious matter, I don't think it's at the core of our economic and trade relationship. Both governments, both countries are now economically highly interdependent. Both are facing the needs for major structural adjustments in their economies. We need to understand what each other is doing and why and how we can be supportive, because those structural adjustments work for both countries."
Related stories
Editor:Xiong Qu |Source: CNTV.CN