Watch Video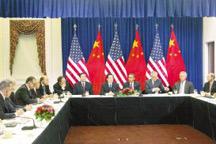 Play Video
Chinese President Hu Jintao's state visit to the US is expected to bring the two economies closer.
The Obama administration has unveiled commercial deals with China, worth more than 45 billion US dollars. And as Guan Xin reports, there's a lot more potential.
The Chinese President's visit brought about 45 billion US dollars in export deals for the US. The biggest order is a 19 billion dollar purchase of Boeing commercial aircraft.
The deal was well received in the US. Officials say it not only benefits US companies, but also supports 235,000 local jobs.
A US expert says politicians should seize the opportunity of Hu Jintao's visit, to break ground for further economic cooperation.
Kenneth Lieberthal, Senior Fellow of The Brookings Institution, said, "So long as those adjustments are job creating, they should be very welcome here. But there are a lot of obstacles to them now, political and otherwise, so I hope both sides will address that."
The obstacles are long-standing. The Chinese government has been repeatedly complaining that the US restrictions on high-tech exports is dampening a big demand from China.
Huo Jianguo, Senior Official of Ministry of Commerce, said, "China-US trade will continue to grow at a fast pace. But the key issue here is that the US should relax its control on high-tech exports to China. The development of China's new energy, environment protection, high-end manufacturing all need advanced technologies and equipment. If the US continues to maintain controls, it will be an obstacle to further growth for US exports to China. "
China has been striving to do its part to balance trade with the US. In December the country's exports rose 18 percent, while imports jumped 26 percent. The trade surplus dropped to the lowest in eight months.
Figures from the US show exports to China in November hit a record high of 9.5 billion US dollars.
CCTV reporter Guan Xin said, "The economic cooperation between the two sides is benefiting people from both countries. Analysts say the visit of Chinese president to the US is a big opportunity for the two sides to build mutual trust, remove existing barriers on two-way trade and investment, and pave the way for future economic cooperation.
Editor:Zhang Jingya |Source: CNTV.CN