Watch Video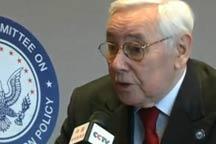 Play Video
Academics, experts and business insiders are also keeping a keen eye on President Hu Jintao's state visit. They believe the visit is a success, and that China-U.S. relations will be further promoted.
Dr. Grorge Schwab, President of National Committee on American Foreign Policy said "It is a very welcomed vocation for the United States and the PRC to get together highest level to discuss issues that confront us both issues that we can solve easily issues that long term negotiations talks all and all it's a very successful visit."
Dr. Alex Machnnon, International Strategy Consultant said "What I certainly see recently this afternoon and overnight it seems goes very well. Basically the US and China are partners. If you look at investment China make in the US in industry they are helping the US with events."
Editor:Xiong Qu |Source: CNTV.CN