Watch Video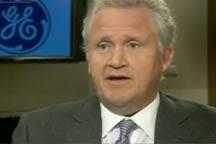 Play Video
A 45 billion U.S. dollar deal between China and the U.S. is bringing cheer to American companies. General Electric, one of the beneficiaries, is looking more and more to Asian markets. And experts say the U.S. job market will also gain from the deal.
China is putting business first as its President Hu Jintao visits the US this week. Already 45 billion dollars of business has been announced- with expectations of more to come.
One of the recipients of the Chinese business deals was General Electric. The company says the various ventures will generate $2 billion in revenue over the next decade.
Jeffrey Immelt, Chairman & CEO of General Electric said "They do a lot of things well. There is so much progress being made and it's going to be the biggest economy in the world. The only question is when. But they are on a trajectory that is hard to deny."
And that's why Immelt is keeping a close eye on the Asian consumer:
Jeffrey Immelt said "The American consumer will always be important but for the next 25 years it's probably not going to be the engine of global growth - it's going to be the billion people joining the middle class in Asia."
The deals announced so far are expected to generate 235,000 American jobs.
But some believe the U.S. could do a lot better.
Stuart Diamond, Professor of Wharton School, University of Pennsylvania said "It's very nice to get 4,700 jobs for General Electric for engine technology and it's very nice to get some more jobs for energy partnerships but there is much more out there. "
In fact, new data show China's economy sped up at the end of last year; growing at a faster than expected rate of 9.8 percent in the fourth quarter- a reminder of the country's growing economic power.
Editor:Xiong Qu |Source: CNTV.CN