Watch Video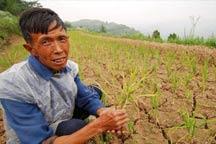 Play Video
A severe drought sweeping across the northern provinces of China, has strengthened expectations of surging food prices. Some market observers say inflationary pressures may rally even further. CCTV reporter Yin Hang takes a look at whether those concerns are warranted.
A direct impact of the severe drought in China's northern provinces is a hike in the cost of flour. In Yiwu, a city in eastern Zhejiang Province, the wholesale price of flour has climbed rapidly.
Currently, the wholesale price for 50-kilos of flour stands at 72 yuan, surging 2.5 yuan compared with two weeks before.
Businessman in Yiwu, Zhejiang province said "We feel the prices of flour have been surging these days. It's mainly caused by the drought in the north."
In order to prevent further price hikes, many cities have adopted measures to ensure abundant market supply.
In Shanghai, the retail prices of rice has been largely shielded from fluctuations this year.
One shopkeeper in Shanghai said "The rice price is keeping stable this year. There is basically no price fluctuation. We also adopted some price cut measures for festival promotions."
The wholesale purchase prices of rice surged more than 20 percent at the end of last year in Shanghai. It pushed retail sales prices 0.2 yuan per kilo higher than in the previous month.
But experts say the price surge was caused by surging production and transportation costs.
Experts believe there will not be massive rice and flour price hikes, because of the sufficient reserves.
Editor:Xiong Qu |Source: CNTV.CN