Watch Video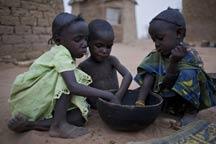 Play Video
Rising food prices have been a hot issue for some time, and now, more so than ever. The latest World Bank food price index shows that rising prices have driven millions of people in developing countries into poverty since last June.
According to the latest edition of the World Bank's Food Price Watch, prices rose 15 percent between October 2010 and January of this year. That's 29 percent above its level a year earlier and only three percent below its 2008 peak.
Due to the soaring prices, an increasing number of people have been driven into poverty.
Ngozi Okonjo-Iweala, Managing Director of World Bank said "The recent food price hikes have thrown another 44 million people into extreme poverty. I feel we have now entered a danger zone. National food security issues are becoming a global food security issue. This is a challenge for the world."
Global wheat prices have risen the most, doubling in the last six months. Maize prices are over 70 percent higher in that time. But perhaps most crucial for many of the world's poor, rice prices have increased at a slower rate. The World Bank suggests boosting productivity and improving distribution.
It also says the international community should help developing countries mitigate the impact of increasing and volatile food prices through several measures.
Ngozi Okonjo-Iweala said "One is to improve the transparency of information on food stocks. Often there is an excess of food produced in one country, which can be distributed to another but we just don't have that information. We also need to help farmers with better forecasting, we need to help with better storage and distribution systems."
The managing director also calls for the expansion of nutritional and safety net programs in countries where food prices are rising fastest. He also says more investments in agriculture is also needed.
Related stories
Editor:Xiong Qu |Source: CNTV.CN