Watch Video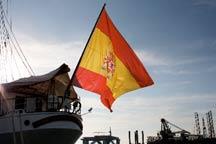 Play Video
Sovereign debt remains a headache for many European countries. Now, Portugal is considered by many analysts as the next domino to fall - the next country likely to receive a financial bailout, after Greece and Ireland. Striving to prevent this, Portugal has promised to cut its budget deficit and implement painful reforms.
A year into Europe's sovereign debt crisis Greece and Ireland have already received EU/IMF bailouts.
Many analysts fear debt-laden Portugal could be the next to need rescuing.
Lisbon has promised to cut its budget deficit and implement reforms.
The country's Finance Minister, Fernando Teixeira Dos Santos has said Portugal won't need rescuing.
But Portugal's borrowing costs have risen sharply over the past year and analysts say that could eventually force it to seek financial aid.
Fernando Ulrich is CEO of Portuguese bank BPI.
Fernando Ulrich, CEO of BPI said "Well I think the Investors right now are quite negative about Portugal, in my opinion too negative, but that is how the market operates in certain moments."
Times are hard for all of the country's lenders, as the pressure of the country's debt means the banks are being shut out of funding markets.
The CEO of Millennium BCP Carlos Ferreira says his bank and his competitors would welcome any kind of investor.
Carlos Ferreira, CEO of Millennium BCP said "There are different ways to increase capital. One we have already used this year, we have not distributed dividends, we go for script dividends. And all of us, we taking into account assets, we are disinvesting, we are selling portfolios, and this is also a way to increase capital."
The European Union is holding two summits in March to discuss its rescue mechanism.
Many countries think the euro zone's bailout fund needs to be increased or reconfigured, but Germany, Europe's paymaster, isn't keen on this.
Portugal wants the EU to be able to buy government bonds of troubled euro zone members.
Editor:Xiong Qu |Source: CNTV.CN