Watch Video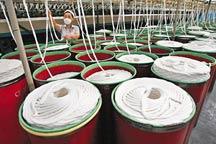 Play Video
China's non-manufacturing sector fell into a lull in February. Figures released by the China Federation of Logistics and Purchasing show the country's purchasing managers index for the non-manufacturing sector hit a two year low of 44.1 last month.
February's non-manufacturing PMI stood at 44.1, down 12.3 percentage points compared with January.
It marks the first reading below 50, which indicates a contraction in activity, in a year.
The index is intended to provide a snapshot of conditions in the service sector, which accounts for just under 45 percent of China's economy, much less than in developed countries.
Cai Jin, Vice Chairman of China Federation of Logistics & Purchasing said "Excluding seasonal factors, this month's reading is basically normal. The index each February, since we started releasing the figures in 2007, have all been below 50."
The index typically dives in February each year, as many service activities stop for the Lunar New Year holiday.
The new order sub-index for the construction sector fell to 37.3 in February. That's the second-consecutive month below the 50 standard.
Cai Jin said "We also have figures showing the growth potential of China's construction and service sectors. According to that figure, we believe China's service and construction industry will become active in March."
The new order sub-index for the property sector fell for the fifth month in a row to 39.7 in February, showing weakening demand for housing after a slew of government steps to rein in the red-hot property market.
Editor:Xiong Qu |Source: CNTV.CN