Watch Video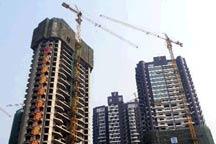 Play Video
Tightening measures are putting pressure on property developers. In Shanghai, some have decided to sell off projects and development rights, to get through the lull.
Many developers are heading to the Shanghai United Assets and Equity Exchange. Some are selling their company's stock rights, some are selling their projects, and others still are even putting up entire companies for sale, to withdraw from the property market altogether. A well-known developer with strong financial backing has sold off 4 projects since the beginning of the year.
Developers say, now they're putting more effort in selling properties to claw back some money, which analysts say is due to lack of capital.
Xue Jianxiong, Analyst of China Real Estate Information Cor. said "Many developers cannot get loans, while their sales are influenced by curbing measures. So developers are facing problems with their cash flow."
In 2010, property developers bullishly expanded their investments, and snapped up a large amount of land. After several rounds of increasingly restrictive curbing measures, they've reached something of a bottleneck - one that's caused by lack of capital. Those who don't have solid finances to fall back on have been forced to sell their projects off, to get through these tough times. But analysts say they may have more problems in the future.
Xue Jianxiong said "A lack of capital might show itself in the first quarter. But in the second quarter, all developers will be short of money. I believe housing prices and the land market will experience a huge change in the second quarter."
The trade volume in some cities' property markets have slumped by more than 50 percent compared with the same period last year. Analysts say that will impact developers' operations in the future.
Related stories
Editor:Xiong Qu |Source: CNTV.CN