Watch Video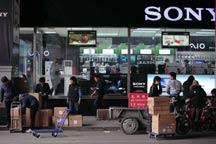 Play Video
Japan's northeast, a large production base for electronic products, has been most seriously hit by the catastrophic earthquake and tsunami. Many big names - including the likes of Sony and Toshiba - have already halted production. And the biggest impact is on the market for flash memory chips, which are at the heart of many electronic devices.
Toshiba is the world's second-largest flash memory chip maker, accounting for more than one-third of the global memory chip market. Two of its major plants are located in the area most affected by the disaster. Due to the production halt, prices of memory chips have already seen increases.
Mr. Huang one retailer said "Flash memory chip prices rose shortly after the earthquake occurred. These products are in short supply."
It's hard to say to what extent Toshiba has been impacted at present. But industry insiders point out the earthquake will certainly cause an imbalance between demand and supply in the short term. Some retailers are already starting to hoard stock.
Wu Bo, Department Director of HCSINDEX said "Some retailers aren't selling flash memory chips. It's also the same with Taiwan retailers."
The memory chips are used in just about every electronic gadget, from smartphones to tablet computers like the iPad.
Samsung and Toshiba, along with two other companies, take up 80 percent of the global memory chip market. Flash memory prices tripled in 2007 as a power cut caused Samsung plants to stop production for two weeks.
But, experts say market speculation is also behind the price fluctuations.
Editor:Xiong Qu |Source: CNTV.CN