Watch Video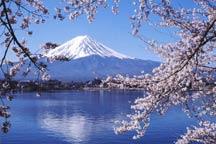 Play Video
March and April should be a peak season for tourism to Japan, with its national flower cherry blossom blooming around the country. But the recent disaster has overshadowed the enchanting season, taking a heavy toll on Japan's tourism industry. Many travel agencies in China have cancelled or postponed trips to Japan.
Since the devastating earthquake and tsunami hit Japan last week, many Chinese travel agencies have been busy canceling or postponing trips to the country. They're advising tourists not to travel to Japan in the near future.
Zhang Meifen, Employee of Genwozou Travel Service said "In the previous days, some customers came to consult on trips to Japan for cherry blossom viewing. But after the earthquake occurred, we've advised customers not to go to Japan this year. "
The tsunami-hit areas are far away from the regular travel routes for Chinese visitors, covering Tokyo, Nagoya and Osaka. But nationwide transportation in Japan has been impacted, with some airports, rail routes and highways remaining closed. So most Chinese travel agencies have halted group tours to Japan.
Zheng Xiangfang, Shopkeeper of Sichuan Comfort International Travel Service said "We have cancelled all group trips to Japan that were set to leave before the end of March. If customers want to cancel, we will refund all their costs. Trips to Japan will be postponed."
There are also some Chinese holiday-makers still in Japan, with travel agencies making arrangements for their safe return home.
Lu Yang, PR Manager of West China Apartment, Ctrip.com said "Nearly 200 of our clients are in Japan, we have already contacted them, and are trying to arrange flights to take them back."
China's National Tourism Administration has issued a notice urging travel agencies to adjust travel plans and be responsible for the safety travellers.
Editor:Xiong Qu |Source: CNTV.CN