Watch Video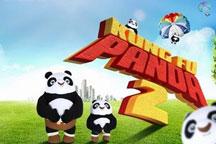 Play Video
Po the Panda butt-kicked his way to box office earnings of nearly 630 million U.S. dollars in 2008. And this May, the 3D version of Kung Fu Panda 2 will be hitting the big screens. But a month before the movie's release, a variety of Po-themed merchandise is already getting fans excited.
When the first Kung Fu Panda movie was released, Po the Panda toys were an instant hit on the market, despite the high price tags.
So this time around, a month before the sequel is due to hit the big screen, many kinds of Kung Fu Panda merchandise are already flooding the market. And they're 100 percent designed and produced in China.
Wang Lei, CEO of Beijing Yingzong Technology, said, "We will start to promote the merchandise in movie theaters next week. All the products are useful to people's daily lives."
It may be all soft toys and Panda-themed soft drink tumblers, but movie merchandise is a serious business. Revenue derived from merchandise accounts for 73 percent of a motion picture's total turnover in Hollywood. But most Chinese movies make money through the box office, product placement and advertising. Last year's popular Chinese pictures - Let the Bullets Fly and If You are the One 2 - focused heavily on merchandising. The strategy paid off, with each film earning around a million yuan.
Zhou Haifeng, General Manager of Huaxinbo Intermedia, said, "Movie makers are taking our advice of putting props and clothing in their movie since the beginning of shooting, to make merchandising sales easier."
Analysts say the Chinese movie merchandising market has enormous potential. When Transformers was in theatres, memorabilia was in hot demand. A vintage toy version of the movie's lead character, Bumblebee, sold for around 10 thousand yuan each, while a new toy was sold for more than 1 thousand yuan.
Businesses also say movie producers are paying more attention to the merchandise market, since China's box office earnings exceeded 10 billion yuan in 2010, signaling the accelerating growth of the country's film industry.
Editor:Zheng Limin |Source: CNTV.CN