Watch Video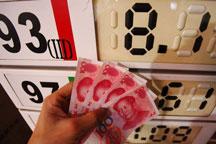 Play Video
China, Asia's biggest oil consumer, has increased retail gas and diesel prices to a new record high. The price rise was expected and aims to ensure refiners produce enough to meet the seasonal rise in demand. Experts say, if the shortage of the international oil supply continue, further price hikes are possible.
The fuel price increase came a day after China increased its benchmark interest rate for the fourth time since October, raising suspicions inflation data for March - due to be released next week - could be higher than expected.
Analysts say, because the government is now working to tame inflation, the decision to hike fuel prices is a prudent one.
Zhou Dadi, Vice Chairman of China Energy Research Society, said, "The price standard adjustment adopted this time means China's oil refiners have to carry part of the international fuel hikes by themselves. Given the current international fuel pricing mechanism, prices can hardly go back to the low price era. So Chinese consumers should be prepared for more slow or rapid fuel price hikes in the future."
Experts say a well-planned fuel price hike could help avoid fuel supply shortages in the market.
But the impact of the political instability in Libya on the oil market doesn't see to be easing, and Japan's oil demand will increase due to its post-disaster reconstruction and replacement of nuclear power. So international oil prices are likely to stay high in the long-term.
"The fuel price hike will alleviate pressures of the domestic oil refiners, but it cannot fundamentally solve the low profit margin of China's oil refining industry. So, I think it will be a temporary measure to use subsidies to prevent the fuel price surge." Zhou Dadi said.
International high fuel prices are pushing up China's fuel import bill, already rising with increasing consumption. The country's fuel demand jumped 10.2 percent on the year to 9.53 million barrels per day in February.
Event background:
China raises fuel prices as oil climbs
China's top economic planner has raised domestic fuel prices, aiming to ease the burden for state-owned refiners who face climbing international oil prices.
People's response to fuel price rise:
Oil price hike leads some to pumps, others to bikes
BEIJING, April 7 (Xinhua) -- Dozens of vehicles lined up late Wednesday night at a gas station in Shijiazhuang, capital city of north China's Hebei Province, to have their tanks filled before another fuel price hike.
Do Chinese oil giants earn hundreds of billions of yuan?
NDRC: Oil refiners face losses as costs surging
Consumer reaction in China to soaring oil prices has been directed to the nation's largest oil refiners - Sinopec and Petrochina. Online web users, or netizens, claim the two giants were earning hundreds of billions of yuan on higher oil prices, and ripping off fuel consumers.
Oil prices rising around the world:
Other nations tackle rising oil prices
But China is not alone. Other countries, such as France and South Korea, are also being plagued by soaring oil prices. But while China is raising fuel prices, others are implementing measures to curb them.
Editor:Zheng Limin |Source: CNTV.CN