Watch Video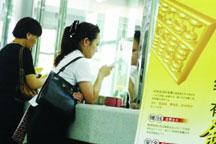 Play Video
Inflationary concerns are still prevalent in China despite the two rate hikes this year. Many residents are thinking about how to better manage their finance.
In the wake of China's latest interest rate hike,many residents are rushing to banks to renew their deposits.But some smarter ones are turning their eyes to finance management products designed by banks.
"I want to withdraw my deposit to buy the bank's finance management product." Customer said.
This customer's choice sounds relatively special compared to her peers as most senior people prefer term deposits. But it's just exactly what the young people are doing now.Although the benchmark one-year deposit rates have been lifted to 3.25 percent, that's still below 4.9 percent, which was the rise of consumer price index in February.As a result, an increasing number of people are interested in those finance management products.
Zhao Zhigang, Employee of Beijing West Train Station Branch, ICBC, said, "The interest rates of several short-term products like six-month product can reach five percent the highest.That's quite close our CPI level now."
Industry insiders say these finance management products are more flexible and offer higher returns, which seem more appealing to customers. But experts warn that there are also risks and consumers should be cautious.
Editor:Zheng Limin |Source: CNTV.CN