Watch Video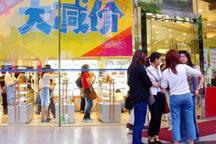 Play Video
China's top economic planer is urging businesses to be on the lookout for fraudulent pricing behavior. The warning comes as the National Development and Reform Commission, or NDRC, made public several companies involved in price fraud.
The NDRC on Monday vowed to crack down on price fraud and manipulation, just ahead of the approaching May Day Holiday - a long weekend spent shopping by many Chinese.
The black-listed retailers are located in the cities of Beijing, Shanghai, Tianjin, Nanjing, Shenyang, Harbin and Taiyuan.
The retailers were involved in misdemeanors including making up original prices in sales promotions, and failing to uphold promotional offers. Some retailers are alleged to have enticed customers to buy coupons, without informing them of their limited usage.
Chen Da, Director of NDRC Price Supervision Department said "This blouse is a case in point. The retailer claimed its original price was 1,200 yuan. But according to our investigation, the real original price was actually just over 1,000 yuan. That's a difference of nearly 200 yuan. This is a typical case of making up original prices to attract consumers. Retailers make up high original prices, before offering a huge discount. The discounted prices are even higher than real original prices. This is total disregard of consumers' interests."
The NDRC is urging local authorities to impose fines of no more than 500,000 yuan on the retailers, according to a statement on the NDRC website.
The NDRC is also demanding local authorities to keep a close watch on pricing at shopping malls and on the prices of daily necessities.
Related stories
Editor:Xiong Qu |Source: CNTV.CN