Watch Video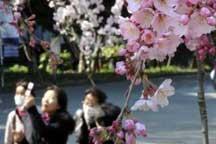 Play Video
Tourism authorities from Japan are trying to lure tourists from China. Industry officials have flown in, to promote all that Japan has to offer mainland visitors.
But first, they have to ease concerns lingering after the March disaster.
A delegation of 50 Japanese tourism officials have arrived in Dalian in northeastern Liaoning Province.
Top of their agenda, is easing concerns about the risk of radiation should tourists desire to travel there.
Meng Qingmei, general manager of Dalian China Women Int'l Travl Service, said, "One of our biggest concerns is tourists' safety. Currently we're concerned about whether the Japanese government's measures can ensure tourists' safety. If the answer is yes, we're willing to promote travelling to Japan."
Japanese officials say there's no need to worry. Japan has been monitoring the nuclear situation since the crisis, and collected data shows most places in Japan are safe.
Takakazu Ishii, governor of Toyama Prefecture, said, "Take me as an example. I have to visit Tokyo once a week to hold talks with the central government. You can see I'm very healthy, both physically and mentally. Chinese residents can see most places in Japan are safe. So they can travel to Japan without worrying."
The number of foreign visitors travelling to Japan has been on the rise since 2009, and it hit a record high last year. Local authorities set a target of 11 million foreign travellers this year. But it's had to lower the goal, as numbers declined after the earthquake.
Local tourism began its slow recovery last month. The first group of visitors from the mainland travelled to Japan during the May Day holiday.
Related stories
Editor:Liu Fang |Source: CNTV.CN